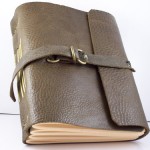 Travel is a time for growth, new experiences, and seeing more of the country or the world. If you're going on a journey, you'll want to remember everything you did. A travel journal is far more important to enrich your trip at the time and will preserve your memories of the experience for a lifetime.
 Before you leave:
Buy a durable hardcover blank journal if possible. If you're on a tight budget, look for a bound notebook that will be big enough to glue in menus and programs but small enough to fit in your backpack or bag.
Make sure you have a good pen and some small colored pencils or a travel-size watercolor set for quick sketches. A small pair of scissors and a short plastic ruler will also come in handy. Buy a good quality glue stick. Glue a large clasp envelope to the inside of the back cover of the journal and put papers there until you have time to glue them into the book.
Get a small zippered pouch or large Ziploc bag for all your journal supplies — preferably a clear one so you can see what's inside. Pack it your carry-on bag if you will be flying.
On your trip:
Very important… Date your entries! You may think you'll remember but the days will start blending together real quick.
Collect ticket stubs, business cards from restaurants and hotels, paper menus or logo napkins, and other paper items that will add visual appeal and help you remember your trip. Put them in the clasp envelope in the back of your journal until you can incorporate them into it.
Glue in the information as you go along, or leave room to add items later. Liquid glue takes longer to dry than the glue stick, but it will hold in items better.
A digital camera and/or voice recorder would be great to document events as well!
Tips
*  Schedule time to make notes at about the same time every day. If you write in the evening, you can make notes on everything you did that day, even if you don't have time to fill it out right then. If you write in the morning, you can recap the previous day and make notes about what you want to do that day. Then you can add details and glue in your paper items whenever you have time during the day, or even when you return from your trip.
*  It will be tempting to focus just on outward experiences, such as what you saw and where and what you ate, but it will be more interesting later if you include your personal responses to the people you meet and the places you see. Tell your feelings, and reflect on the meaning of your experiences. Try collecting email addresses from some of the people you meet to keep them updated on your travels.
Warnings
*  Details fade quickly, so don't wait to write down important events, conversations, sights, contact information for people you meet, and notes on things you still want to do or remember. Yes, it takes some time away from sightseeing, but it will make your trip more meaningful.