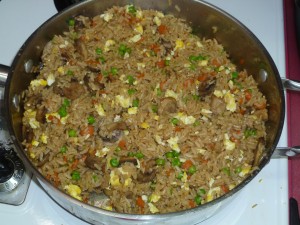 Ingredients:
2 large eggs
12 baby carrots, chopped
1 tablespoon oil (peanut / vegetable)
8 ounces mushrooms, sliced
1 tablespoon minced garlic
1/4 cup sherry wine (or wine)
3 tablespoons soy sauce (about 6 packets)
4 cups cooked brown rice, cold
1 bunch green onion, sliced
1 cup frozen green peas
1 1/2 tablespoons sesame oil
Directions:
1. Spray a deep skillet cooking spray and heat on medium.
2. Beat eggs lightly, pour into pan, and cook without stirring until they are almost dry.
3. Remove to a plate and set aside.
4. Heat oil in same pan over medium high heat and add carrots and cook, stirring from time to time, for about 2 minutes.
5. Ad mushrooms and garlic and cook and stir for 2 more minutes.
6. Add the sherry, soy sauce, and cooked rice. Continue to cook, stirring from time to time, for about 3 minutes.
7. Add green onions, peas and sesame oil.
8. Cut the eggs into thin ribbon strips, add to pan, and toss well to mix all ingredients.
9. Serve at once with extra soy sauce if desired.