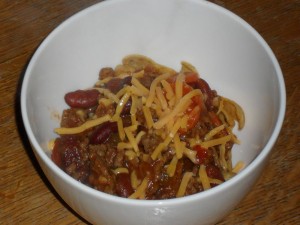 4 cups corn chips
1 can Hormel Chili (I like it best… with or without beans)
1 1/2 cups shredded Colby or Cheddar cheese
Layer 2 1/2 cups of corn chips; 1/2 cup cheese and chili in 1 1/2 quart casserole or Dutch oven. Top with remaining corn chips. Bake at (375) or over camp fire, about 25 minutes. Top with remaining cheese and bake 5 minutes longer. Garnish with sour cream if you have any!