Uncle Carl wasn't like other uncles, and the difference suited me, I guess because that is the only way I ever knew him. One of my more stranger relatives was my Uncle Carl, he had married my mother's sister, Barbara.
I didn't actually get to know Uncle Carl until he came back from the Vietnam War. Most people that knew him said the Carl that left is not the Carl that came back. I guess war does that to a lot of people.
He had a daughter but never really did anything with her. I'm not sure if he was allowed to, I was too young to remember much, except going to their house filled with burning incents and beads hanging from the door way and Led Zeppelin playing on the record player. He would always be stoned out of his head, which I didn't realize until I got much older.
I remember his as a bear of a man; kind and easy going with a really great head of thick burley hair. He was always smiling and told really stupid jokes. Friendly but not right, even as a child I knew this.
My aunt and him divorced and he moved on. Once a year or so he would show up at our door with a big smile on his face. I remember it was my Dads birthday and he just happened to show up for a free dinner and all he had of value was a silver dime. He sang happy birthday and opened his wallet and pulled out that silver dime and gave it to Dad as a birthday gift. I realize now that was all he had.
On, another surprise visit from him, my father, Uncle Carl, and myself, walked through some woods. My father had a .22 caliber rifle and Uncle Carl all of a sudden FREAKED OUT! He grabbed the .22 and started shouting at a small single engine plane flying over head. I always assumed he missed but never really knew. After that it was, "KEEP THE GUNS AWAY FROM UNCLE CARL"! That incident did scare the shit out of me…lol
We'd go years without seeing him and one day he showed up in the front of our house driving an ice-cream truck. Even then I knew he was selling drugs out of the back of the truck. Another time we were at the Kentucky State Fair and saw him as carney. We hugged and said hello and to come for a visit, but he never did. After that Uncle Carl just faded into history…
On February 20, 2013 my sister sent me this article;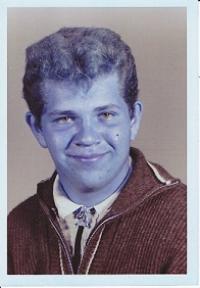 Carl V. Myers, 63, of Chelsea, formerly of Revere, beloved son of Alice (Porter) Perry of Revere and the late James Myers, brother of Jim and Tom Myers, also survived by many aunts, uncles, nieces, nephews and cousins.
Carl was a veteran of the Vietnam War with the United States Army and served on two tours of duty before finally being discharged in September of 1972. He was a 100 % disabled veteran which was service related. He later was a well driller, cab driver, and also worked in the maintenance department at the Miami Veterans Hospital.
His Funeral Service will be held on Thursday at 7:00 PM at the Conway, Cahill-Brodeur Funeral Home, 82 Lynn St., Peabody to which relatives and friends are kindly invited to attend. Visiting hours will be held prior to the service from 4:00 until 7:00 PM. Burial will be private.
Goodbye Uncle Carl… I do regret not looking you up as an adult.
Even though he never held the title of Hobo, I truly think he was one in his heart.
PS… to the old bitch who stalks me, eat shit and die!