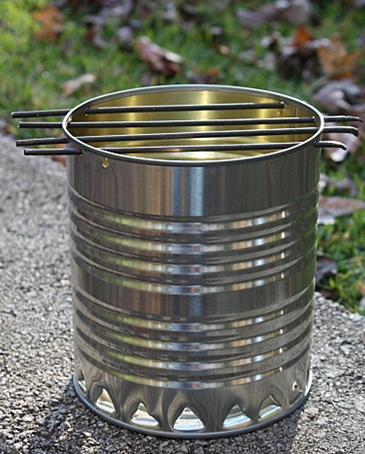 I think almost everyone at one time or another needs a "Hobo Stove".
What you need to make one:
* a large tin can (about a one-gallon size)
* 2 wire coat hangers
* Bottle Opener (church key)
* a small punch or a small Phillips screw driver
The advantage of the Hobo Stove is that small twigs or a few pieces of charcoal will create a considerable amount of heat for cooking. In addition, the fire is contained within the can and is much safer than an open fire.
Take the emptied gallon tin can and wash it out real good.  Use a bottle opener to cut holes at approximately 1 1/2-inch intervals around the bottom of the can. This will allow the stove to draft properly. With tin snips or pocket knife cut a half circle hole at the bottom of the can, so that your stoves fuel can be added.  If you use a knife wear gloves and don't use your good knife because you're going to really dull the blade. Punch some small holes around the top of the can using the punch or Phillips screw driver. Cut the hangers about 1-2 inches larger than the diameter of the can. Insert the wires all the way threw the tin can. (look at photo)
When finished let stove cool down, take out wires, and wrap in a towel for transporting.
If you want to cook with two pans or a pan and a coffee pot, two stoves could be used. If they were slightly different sizes, one could be inserted inside the other to conserve space.