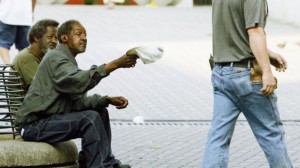 This has to be one of the most dumbest things I've ever saw…
A New Jersey town, It's fine to ask a stranger for some spare change – so long as you can produce the proper permit. A new law will soon require beggars, bums, homeless, and Hobos, to obtain permits in an effort to prevent aggressive panhandling and to limit the areas where they can beg.
The new law that was enacted Monday, threatens severe offenders with a fine of up to $1,000 and jail time!
Here is the link to Fox News