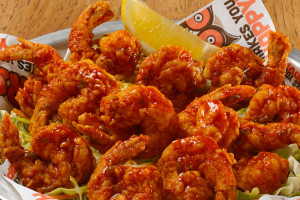 1.   All you can eat shrimp from Red Lobster
2.   T-Bone steak w/baked potato
3.   Chicken Cordon Blue, Mama makes it!
4.   Almond Crusted Grouper
5.   Alaskan Snow Crab Legs
6.   Real Greek Gyro
7.   Chicken Cesar Salad from the Outback
8.   Chicken Pad Thai with Chicken Satay
9.   Hooters 911 Buffalo Shrimp
10. Hibachi Chicken/ Filet Mignon / Shrimp Japanese steakhouse
These are my selections of what I'd love for dinner tonight. Of course Hooters 911 Chicken Sandwich sound awesome as well.