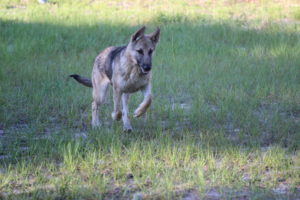 Hattie My German Shepherd. She has destroyed my pepper, swimming pool liner, planter pots, shoes, 5 hoses, pool floaties, ate my daughters 4 wheeler seat, and much more. She is one destructive dog, but we still love her.
Since I was small I've always wanted a German Shepherd dog. We have had a few over the years but some didn't work out.
Our first shepherd was Duke. Duke was a male and a gorgeous dog. We lived in a subdivision and Duke grew into a huge dog. We had a 4-foot chain link fence installed and he could easily jump over that. A friend of our with a lot of property had always wanted him so we finally broke down and let her have him.
Dakota was next. Dakota was an awesome dog but as she grew so did her energy. She kept barking and barking and the neighbors complained so we finally felt bad and gave her to my sister law. We tried everything to quieten her down.
We moved to a home with 2 acres of property. So we got another one and named her Ziva. Ziva was a good dog with a very good temperament. Unfortunately, she had some skin disease and after spending a lot of money on her was told there was really nothing to do for her. We had to put her down and she was a young dog. That broke our hearts.
Hattie, The German Shepherd
So, for my 52 Birthday, my wife and kids bought me, Hattie. I named her after Hattie McDaniels. She is a brat, to say it nicely. She is a beautiful dog and aggravates everyone and everything. Yes, she chews and aggravates our pig to death but she isn't going anywhere. She is in her second training session and is about 1 1/2 years old so hopefully, she'll calm down soon. lol