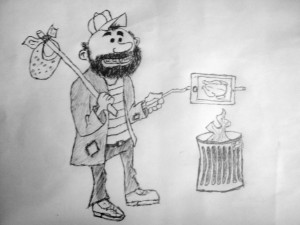 CyberHobo's Wish List for 2017′!
Hobo Bindle
Hobo Quilt (2017)
Hobo Pot Holders
Plasma Lighter ($20)
T-Shirts (5 xl)
Tarp (10 x 10 or so)
heavy duty backpack
Small Garbage Can
Portable AM/FM Radio
Small First Aid Kit
Anyone who'd like to donate toward one of these items please do so. I'd much appreciate it.
Wish lists are collections of desired products saved by Hobo's, signifying interest without immediate intent to purchase. We can only afford so much, so for survival, there are things we wish for.
WISH POEM
I wish
I will have a friend
With me to my dreams
With me to pray
With me to….drink
Not like to a mad
Not let me to mad….
I never like to read,
Never like to sing songs…
She may be with me to work
She may be with me to my dreams