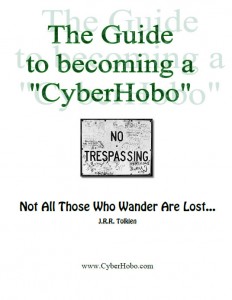 For those who need to know the differences..
A Hobo is a person that travels to work
A tramp is a person that travels and won't work
A bum is a person that will neither travel or work
A CyberHobo is a person who travels and works, but most of all has a lot of fun! A CyberHobo's work is on computers, internet, etc. (whatever for money)
Disclaimer: Nothing on this site is intended to harm or make fun of any person. Before you think about jumping trains look at the study of the number of deaths that have occurred. Today's trains do not stop to take on water for the old steam engines (which is how Hoboes would typically board and debark) and they travel and much higher speeds.
==============================================
I'm getting questions about traditional HOBO's and CyberHobo's. So what this has created is me breaking the website into two sections. The first section CyberHobo (link: cyberhobo) is going to be used for the modern day hobo. The "Hobo Stuff" (link: hobo stuff) is for the traditional hobo information.
CyberHobo
The new generation of Hobo's or CyberHobos! On this part of the site is where I am going to put the new "hobo signs", Lingo, FAQ's about CyberHobos, and other information about me.
Hobo Stuff
The site is full of hobo history, signs and symbols, poetry, music, hobo nickels, recipes, pictures, and a lot more. Since way back during the Civil War hoboes have been seeing America from coast to coast. Most Americans only see about a tenth of the US during their lifetime (what a shame). Most of us will wait till we're 70 years old and then figure out we're too old to travel around and enjoy ourselves. It's funny how when someone watches a movie and see early explorers, Vikings, cowboys, etc. they're dreaming about a lifestyle of traveling around, living free, seeing the world, working only when they needed food to survive. ohh…wait, that sounds just like a Hobo. In the end we all end up in the same place. Instead of looking back at all the work you did a Hobo will look back and think of all the things he did. I really have no idea who'd want that lifestyle.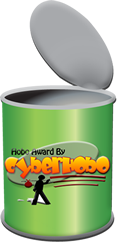 This website is all about having fun… nothing mean spirited is meant by anything on this site. If I offend anyone let me know and I'll see if I can correct it. The entire site is a mixture of old and new hobo information. The new generation of Hoboes are all around us and is going stronger than ever!
If you'd like a New
CyberHobo
 award for your site, ask? It would look great on your site and tell everyone you're a Hobo at heart!
Cyberhobo.com has been alive since 9/9/99
Best Regards,
CyberHobo – Rock ON!