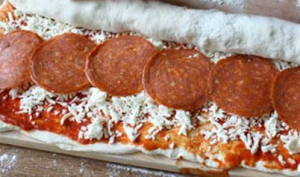 Ingredients:
Canned pizza dough (but any will work)
Jar of pizza sauce (any kind will work)
Package of mozzarella cheese
Favorite toppings… (ham, pineapple, pepperoni, mushrooms, Canadian Bacon, sausage, hamburger, olives, etc)
Dried Italian seasoning , dash of salt and pepper, and maybe some crushed red pepper.
Directions:
Roll out pizza dough to form a rectangle. Spread pizza sauce over top. Top with cheese, additional toppings, and add seasonings.
Roll pizza up to form a log and tuck edges in. Wrap in thick foil. Place in freezer / cooler until ready to cook. Before cooking make sure it's almost thawed. Place pizza log, still in its foil on hot grill or fire pit. Cook for about 15 minutes flipping over and cook an additional 10-15 minutes.
Slice pizza for everyone to eat!